According to Mr. Tang The Cuong – Director of the Department of Climate Change, the target is that by 2030 Vietnam will reduce its total greenhouse gas emissions by 9% compared to the normal development scenario.
Talking to PV Dan Tri, Mr. Tang The Cuong – Director of the Department of Climate Change (Ministry of Natural Resources and Environment) said that the Prime Minister has just approved the updated Nationally Determined Contribution (NDC). With a target of 2030 with domestic resources, Vietnam will reduce its total greenhouse gas emissions by 9% compared to the normal development scenario. And could be increased to 27% (equivalent to 250.8 million tons of CO2eq) when international support is received through bilateral, multilateral cooperation and mechanisms under the Paris Agreement on Climate Change. .
Viet Nam's updated NDC identifies GHG emissions mitigation measures for the period 2021-2030 and strategic tasks on climate change adaptation, adaptation measures to reduce damage caused by Impacts related to the future climate changes are defined specifically for each sector.
According to Mr. Cuong, in terms of socio-economic development of a developing country, subject to many impacts of climate change, the updated NDC of Vietnam has shown the nation's best efforts to contribute. mitigate global climate change, implement the United Nations Framework Convention on Climate Change (UNFCCC) and the Paris Agreement.
National efforts are also reflected in the Government's view of responding to climate change as a vital issue, and the responsibility of the whole country to simultaneously implement adaptation and mitigation activities. greenhouse gas emissions, efficient and sustainable use of natural resources.
To implement, monitor and evaluate the updated NDC, the Ministry of Natural Resources and Environment is assigned to assume the prime responsibility for, and coordinate with relevant ministries and agencies in, developing updated national strategy on gas change. post-period 2021-2050. Establishing a system for measurement, reporting and verification (MRV) of greenhouse gas mitigation activities at the national and sectoral level; establishing a monitoring and evaluation system (M&E) of climate change adaptation activities at national, sub-national and project levels.
At the same time, prepare budget reports for climate change response and green growth for periodic global effort reviews; building a technology transfer monitoring system and strengthening capacity.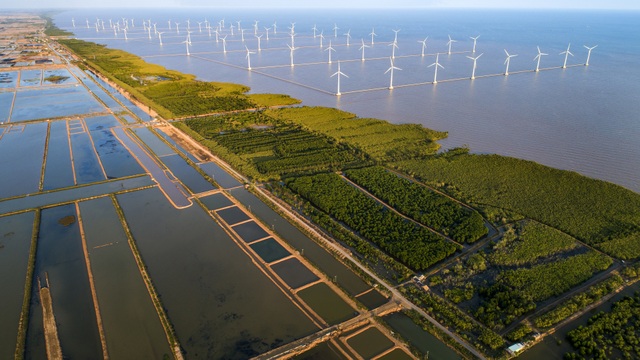 Difficulties and challenges in implementation
Director of the Department of Climate Change affirmed that responding to climate change requires determination and efforts of all countries. Countries with different natural, political, economic, social, scientific and technological levels, and history of greenhouse gas emissions should have different response and priority actions. It often takes years to unify the collective worldwide effort and sometimes up and down.
"This has a negative impact on efforts to respond to climate change, implement updated NDC in Vietnam, both in climate change adaptation and GHG emissions mitigation," said Cuong.
The implementation of Vietnam's updated NDC will be the responsibility of the state, business and community. The focal agency assisting the Government is the Ministry of Natural Resources and Environment, with the participation of ministries, branches, localities and enterprises in implementing their assigned functions and tasks and law provisions.
Mr. Cuong emphasized that the implementation of the updated NDC requires great resources in terms of finance, technology and human resources. Financial resources for the updated NDC implementation will be mobilized from a variety of channels such as the state budget (central and local budgets), international support, business resources and contributions. of the community.
Statistics from the Department of Climate Change show that, in 2014, Vietnam's greenhouse gas emissions accounted for only about 0.5% of global greenhouse gas emissions and the average emission per capita was 2.84 tons. CO2tđ.
However, Vietnam has actively implemented climate change response, low-carbon economic development, green growth, and enhanced implementation of emission reduction measures. Greenhouse gases have potentials in the energy, industry, transportation, agriculture and waste sectors as well as enhance carbon sequestration in the land use, land use change and forestry.
Efforts are reviewed and included in documents, specifying the responsibilities of organizations and individuals in implementing climate change response in general and implementing updated NDC in particular in the period from year 2021 onwards.